Are you planning to set up your own vacation rental, holiday rental, or direct booking website? If the answer is yes, you must be looking for a website builder. So many tools and platforms are available to build a website these days that it might get confusing to decide which one you should use.
You need to take into consideration a variety of factors when choosing a website builder. Some are easy-to-use, while some others provide better features, but need the investment of comparatively more time and money.
In this guide, I will share with you the three best builders for a vocational rental website and also explain which one of these is the perfect choice for you.
Your 2-minute cheat sheet
If you don't have time to go through this 2500+ word article and want a quick answer, here are my top three picks:
Lodgify: It's a comprehensive vacation rental management platform. It provides website templates and also, rental management tools such as channel manager (that enables you to integrate with Airbnb and other third-party booking sites), guest management and communication, payment gateway and analytics. You can manage your listings on Airbnb and other platforms from within Lodgify. You can start a 7-day free trial to find out if Lodgify is the right choice for you. In this guide, I have also shared some Lodgify alternatives which offer more or less the same features. Lodgify is undoubtedly the most popular option.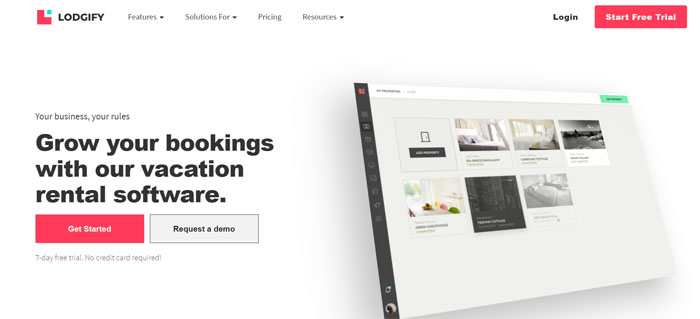 Squarespace: It's a website builder that offers beautiful, modern templates. It's extremely easy to set up. You can build your website within minutes with Squarespace. It however doesn't have a channel manager. It means you will not be able to directly integrate third-party booking sites such as Airbnb. The most common solution to this issue is to have a button on listings that, when clicked, takes visitors to the corresponding listing on Airbnb.
WordPress: If you are looking for a platform that provides you full control over your website and limitless potential to scale it up, this is the best solution for you. With free plugins, you can add almost any functionality to your WordPress website. The only con is that setting up and maintaining a WordPress website requires basic technical knowledge. To minimize the learning curve, you can use a WordPress theme for vacation rental businesses.
Things to consider when choosing a vacation rental website builder
Choosing the right website builder could be a bit tricky. As mentioned before, it depends on what features you are looking for and what resources you have at your disposal to manage your website.
Here are a few things you should consider:
If you are looking for a basic website that you don't need to customize often, you should choose a builder that provides ready-to-use templates. The templates should be easy to set up with features such as 'drag and drop' builders. Lodgify and Squarespace both have plenty of templates to choose from and you can easily customize basic things such as logo, color, images, etc. You can use a page builder with WordPress also, but there may be a learning curve.
Website builders such as Lodgify offer end-to-end solutions for rental businesses. You can accept direct bookings on your own website and at the same time, integrate your website with Airbnb and other third-party booking sites. You can add even more advanced features to your WordPress website. If you like a Squarespace template, you can integrate Lodgify with Squarespace to accept direct bookings.
Depending on the number of properties you are managing, Lodgify can get a bit costly. The starter plans are however very affordable. So if you manage a few properties and are budget conscious, you may consider Squarespace. WordPress is free, but you might need to hire WordPress developers and designers to manage your website.
WordPress is fully customizable, so you can take the personalized branding and website aesthetics to any level. Website customization options in Lodgify and Squarespace may not be as advanced as WordPress; however, both offer plenty of templates to choose from.
Best vacation rental website builders
Here are my three favorite vacation rental website builders:
Lodgify
Founded in 2012, Lodgify is a popular vacation rental website builder. Initially, Lodgify used to offer only website templates, but now they provide software for full-scale management of vacation rental or holiday rental businesses.
Even if you have built your website with a third-party builder such as Squarespace, you can integrate Lodgify to use it as your centralized booking system.
It is particularly popular among people who own multiple vacation rental properties and list them on their own website as well as third-party booking sites such as Airbnb.
What makes Lodgify a truly helpful tool is the fact that you can not only manage your independent direct booking website but also integrate it with the most popular booking sites including HomeAway, Airbnb, Booking.com, and Expedia.
From a single interface, you can manage all your rental listings on these third-party sites. It enables you to perform a plethora of tasks to manage direct bookings online including:
Designing and developing a custom direct booking website
Booking management
Guest management
Task automation
Direct booking
These features help vacation rental owners save time and effort.
START YOUR FREE LODGIFY TRIAL
Pricing
Lodgify's pricing is a bit complicated as what you pay depends on the length of your subscription and the total number of rentals. The most basic plan starts at $12/month.
There is a Lite Plan, available free of cost, but you need to pay 3.9% of the booking fee every time a booking takes place. There will be Lodgify branding also.
For the starter plan ($12/month), the booking fee is 1.9%. there is no booking fee for Professional ($32) and Ultimate ($48) plans.
Features
Here are some of the most notable features provided by Lodgify:
Website templates: The website templates provided by Lodgify are easy to customize. You can change colors, content, logos, images, etc. to make the website look consistent with your branding. If you know HTML, CSS and Javascript, you can get more creative in terms of customizing your website. Also, if you already have a custom website, you can integrate it with Lodgify. This feature makes it possible to integrate Lodgify with websites built on popular platforms such as Squarespace.
Holiday rental listing management: You can add rental listing widgets to accept direct bookings or import listings to your website from third-party bookings sites such as Airbnb. Adding listing descriptions, photos, prices, seasonal rates, promotions, fees and taxes, and channels (third-party booking sites) is really easy.
Channel integration: Airbnb, Booking.com, Vrbo, Expedia, Tripadvisor or any booking site that exports iCal calendar can be integrated with Lodgify. So from a single interface, you will be able to updates rates, availability, dates, etc. for a property published on many different sites. It saves a huge amount of time.
Guest management: if you have the right Lodgify plan, you would be able to send communications to your guests via pre-set email templates.
Task automation: Do you have a team to manage your rental business? Well, Lodgify can help you assign tasks to your team members and automate the process. The task management is done via calendar-like interface, so it's very easy to follow.
Reputation management: Reviews are the backbone of any rental business. You can use Lodgify to send emails to guests remanding them to leave a review.
Integrations: Lodgify is easy to integrate with marketing and other types of tools such as Zapier and Mailchimp.
Payment gateway: Lodgify also provides payment gateway integrations. Some of the payment gateways you can integrate include PayPal, Stipe and Braintree.
Should you use Logdify as your vacation rental website builder?
Well, it depends on your needs and budget, but Lodgify is one of the best property management platforms. The built-in analytics tool gives you insights into which channels are working and which ones are not. The platform is very easy to manage and seamlessly integrates with plenty of booking sites.
Lodgify's booking and guest management system is what makes it stand out from the competition.
The only con I see is that while website templates are customizable to a great extent, you may feel constrained if you want a fully customizable booking website. There are quite a few templates to choose from though.
Alternatives to Lodgify
There are many alternatives to Lodgify, but most offer more or less the same features, so I am not going to explain them in detail. These alternatives include:
Your Porter
Hostaway
Uplisting
OwnerRez
365villas
Tokeet
Escapia
Smoobu
LiveRez
Bookerville
Lodgable
Guesty
Squarespace
Squarespace is one of the most popular website builders. The platform can be used for designing websites in almost any industry – vacation rental included. Squarespace is an affordable option for property managers and the owners of holiday homes.
START YOUR FREE SQUARESPACE TRIAL
Here are a few reasons why you should use Squarespace as the website builder for your vacation rental:
Templates
The best thing about Squarespace is its templates. All Squarespace templates look very modern with great aesthetics.
There are over 100 templates to choose from. The templates are mobile responsive. The design menu allows you to customize almost every part of your website. Since most templates focus on stunning visuals, Squarespace offers vacation rental owners an opportunity to showcase their properties and location in the best possible way.
SEO & digital marketing
If you are planning to promote properties located in small, yet popular tourist hubs, Squarespace is the perfect choice for you. The reason is that Squarespace is a popular blogging platform. So, apart from promoting listings, you can publish travel guides in order to get organic traffic from Google and other search engines.
Squarespace offers built-in SEO features. So, getting your rental vacation website ranked for your target searches is easier with this platform. Some of the ways you can optimize your content for better rankings include:
You can add meta tiles, descriptions and HTML markup to headings and sub-headings,
You can optimize permalink structure (URL structure) of your content
You can optimize site-level SEO including site title, logo etc.
You get free SSL certificate
Easy setup
You can set up your vacation rental website with Squarespace in no time. You just need to drag and drop the elements that you need and change colors, fonts, etc to fully customize your website.
First, you need to choose a real estate or vacation rental template. It's easy to filter templates. Once you find the right one, you can preview it by clicking on the 'Live Preview' button.
Squarespace offers a 14-day free trial, so you get enough time to test out whether the platform is the right choice for you. After you have decided on a template, you need to click on 'Start with This Design'. Building your website from here is very easy. After setting up your account, you can add pages using the left navigation panel and add elements. You can modify elements. Once finished, you can preview the page.
Once you've built your website, you get 'Upgrade Now' option to get a free domain for the first year. The free domain is available with Standard, Unlimited and Business plans.
Excellent support
If you run into any issues, you can easily contact Squarespace support to get them resolved quickly.
You can contact support via live chat.
Squarespace pricing
The annual plans offer a 25% discount. The basic plan – Personal – starts at $14. Others include Business ($23), Basic Commerce ($27) and Advanced Commerce ($49).
Squarespace features
Squarespace offers tons of features. They include:
You get a custom domain free of cost for the first year
Free SSL
A mobile responsive website with hundreds of templates to choose from
One of the features that make Squarespace a perfect choice is extensions. You can use extensions (like plugins in WordPress) to extend the functionality of your vacation rental website built with Squarespace.
Should you use Squarespace for your vacation rental website
If you need a basic, yet modern website with free SEO features, then Squarespace is a good choice for you. Even if you don't have any technical knowledge required for managing a website, you will find Squarespace easy to use.
The only con is that you don't get a channel manager. It means you can't manage your rental listings on third-party booking sites such as Airbnb from within your Squarespace website.
For accepting direct bookings, you would need to integrate third-party tools such as Lodgify with your Squarespace website. You can have buttons in your rental listings. When clicked, the buttons lead the users to the same listing on the third-party booking sites.
WordPress
WordPress is not exactly a website builder because it needs advanced customization.
If you are planning to fully customizable website, WordPress is the best option for you. It's a free open-source website building platform, powering over 25% of the websites on the internet.
The best thing about WordPress is that it has a huge community of designers and developers. It means you will find it extremely easy to hire help whenever you plan to take the functionalities of your website to the next level. Another great feature of WordPress is plugins.
WordPress plugins are basically applications that extend the functionality of your website without you having to do any coding. There are over 50,000 plugins available free of cost. So, if you need a plugin to add direct booking functionality to your website, then chances are you will find one for free. The WordPress community also sells premium plugins which you can buy for either a one-time fee or a recurring price.
WordPress is free, but you will need to subscribe to a hosting service such as Bluehost to host your website on the Internet. Hosting providers such as Bluehost are very cost-effective as plans are available starting at just $3/month.
You can purchase WordPress themes for vacation rental websites starting at just $49/month.
Once you have the Website hosted on the Internet, you can easily add the direct booking feature using a free or paid plugin.
When it comes to customization, the sky is the limit. Since you have full control over your WordPress website, you can customize it in any way you want. Both the other options – Lodgify and Squarespace – come nowhere near WordPress as far as the ability to customize your website is concerned.
WordPress websites are SEO-friendly out-of-the-box. There are great plugins available free of cost to help you rank higher in search engine results.
Should you WordPress as the vacation rental website builder
While WordPress is free, it may require some knowledge about building a website.
Even if you buy a theme, you may need to read a few articles on the internet to learn how to set it up. Alternatively, you can hire a WordPress professional to do this for you.
If you want full control over your website's future growth, then you should definitely consider WordPress.
For example, WordPress is for you if you are planning to build a huge portfolio of vacation rentals, run your own digital marketing campaigns and rank on top for competitive keywords in your target market.
Conclusion
There is no one-size-fits-all answer for which one of the three is the best website builder for a vacation rental business.
If you want an end-to-end vacation rental management system, you should opt for Lodgify.
If you are looking for an easy-to-use and easy-to-customize website with great aesthetics, you should go with Squarespace.
If you want full control over your website that you can scale up to any extent, then WordPress is probably the best choice, particularly if you don't mind the occasion cost of hiring professional services.
Which of the three website builders are you planning to use?